TPG Golden Editions: Edward Burtynsky
The third release in TPG's 50th Anniversary Golden Editions series is this striking image by celebrated contemporary photographer Edward Burtynsky (b. 1955 in St Catharines, Ontario, Canada).
Edward Burtynsky is regarded as one of the world's most accomplished contemporary photographers. His remarkable photographic depictions of global industrial landscapes are included in the collections of over sixty major museums around the world, including the National Gallery of Canada, the Museum of Modern Art and the Guggenheim Museum in New York, the Reina Sofia Museum in Madrid, the Tate Modern in London, and the Los Angeles County Museum of Art in California.
Three hundred and fifty metres beneath Berezniki, Russia, tunnelling machines, referred to as combines, reveal vividly coloured layers from an ancient sea floor. While the strata of Zumaia were raised above sea level, these mineral salts remained underground. Today, they have been revealed through the mining of potash—an indispensable fertilizer. As the combines pass through, they leave behind impressions in the soft rock that can look like fossils of the ancient sea life from which they were formed. These colourful walls contain the minerals that make up potash—a combination of halite, carnallite and sylvite.
Completely enveloped in darkness, and stretching for an estimated 3,000 kilometres, these tunnels were incredibly difficult to film. They are for the most part stable, and will leave behind a record of our presence through anthroturbation (large-scale human tunnelling under the earth). Five mines operate in the town of Berezniki, collectively composing an underground web of an estimated 10,000 km of tunnels. As a result, the town of Berezniki has experienced giant sinkholes that swallowed roads and buildings and shut the local railway station. Many residents have moved, despite the jobs available at the mines and there are calls to move the entire town.1 The potash mined here is ultimately destined to fertilize large industrial farms, like those in the Imperial Valley in California.
Edward Burtynsky's "OIL" was the exhibition that marked the reopening of The Photographers' Gallery in 2012, after a major redevelopment project.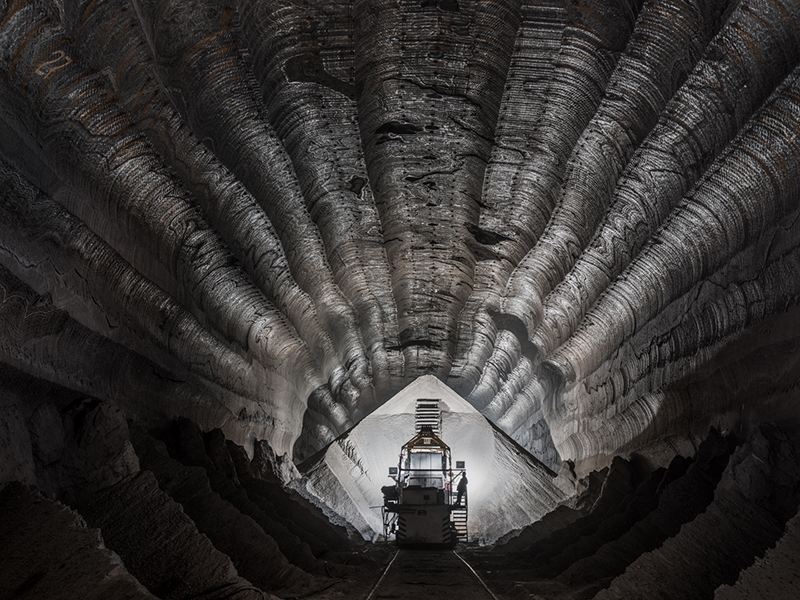 TPG Golden Editions #3: Edward Burtynsky Uralkali Potash Mine #1, Berezniki, Russia, 2017
Edward Burtynsky Uralkali Potash Mine #1, Berezniki, Russia, 2017
Pigment print. Edition of 25
Image size: 20 x 26.5 inches
Board size: 26 x 32.5 inches
From £2,500 + VAT
For further information please enquire at Print Sales Gallery