TPG Golden Editions: Jim Goldberg
Launching TPG's 50th Anniversary Golden Editions is this singular and highly resonant work from American photographer, Jim Goldberg (b. 1953, US)
They Always Welcomed Me is part of Open See (2003 – 2009)– a series of unique works that exemplify Goldberg's distinctive use of portraiture, landscape, and text.  The series addresses the experiences of refugees, immigrants, and trafficked individuals fleeing countries where war, violence, disease, and economic devastation prevail to find new homes in Europe. 
Goldberg spent six years documenting the personal and political journeys of these displaced peoples, visiting over 18 countries, from Eastern Europe, and the Middle East, to Asia and Africa.  As a way of highlighting the individual's stories, Goldberg works in a variety mediums – often hand-finishing photographs with messages or snippets of conversation, or allowing subjects to describe their own experiences through writing on the photographs. In this way, each image becomes a unique object.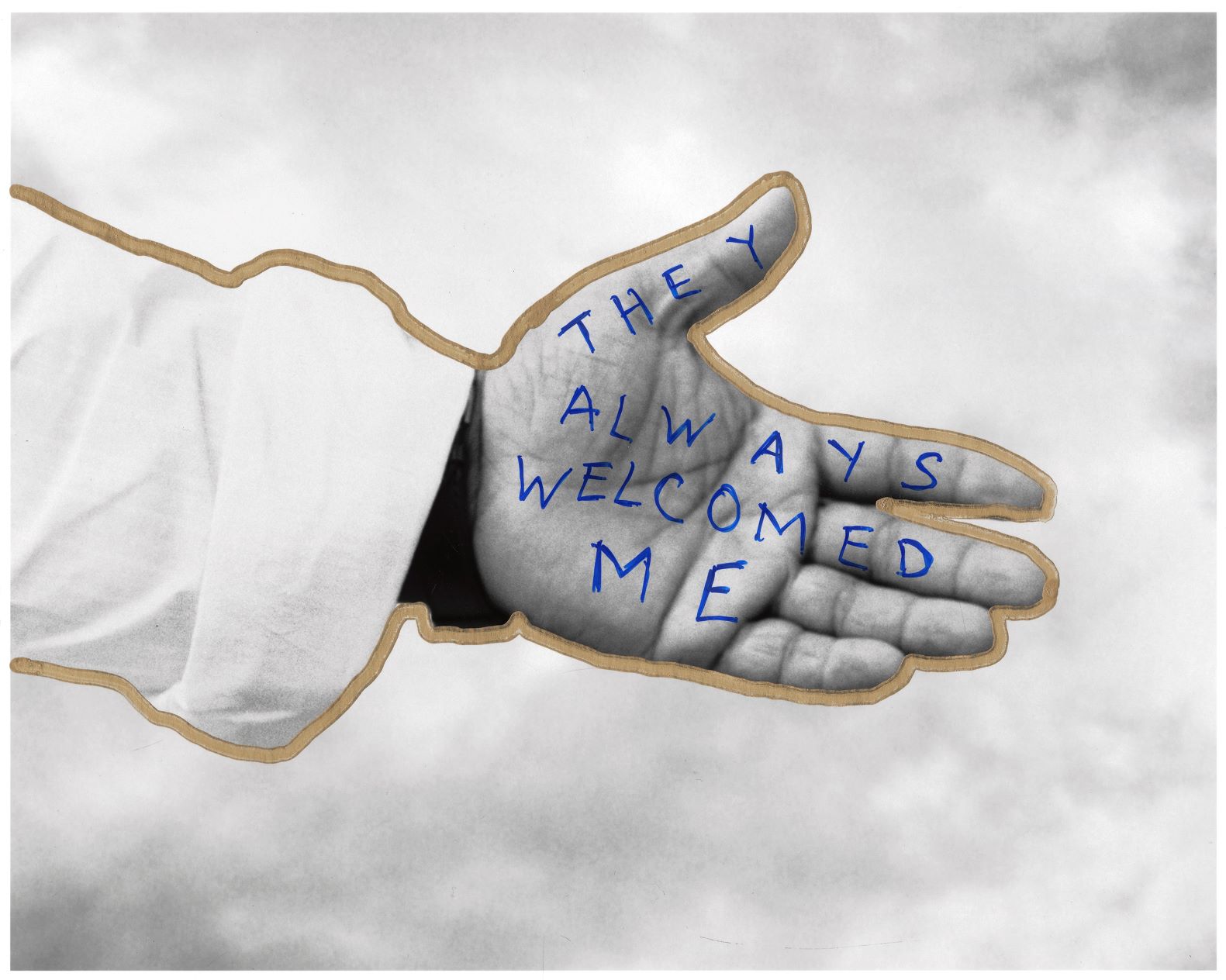 TPG Golden Edition #1: Jim Goldberg, They Always Welcomed Me, 2003. Hand-inscribed silver gelatin print. 12 x 14.5''
Jim Goldberg, They Always Welcomed Me, 2003
Edition of 20 – Each print has been individually inscribed with the written text by the photographer
From £1,000 + VAT
For further information please enquire at Print Sales Gallery
They Always Welcomed Me was taken in Greece in 2003 – one of the first trips that Goldberg undertook for this series.  It shows the hand of an Albanian cellist who had migrated to Greece with his parents. The words written on his palm describe the hopes of future refugees and reminds us of the existence of those who society would deem invisible. 
In 2010, Jim exhibited Open See at The Photographers' Gallery as a solo show. This exhibition was nominated for the Deutsche Börse Photography Prize in 2011 and he ultimately won the Prize that year. In 2019, Jim was the guest judge for TPG's inaugural New Talent Award.  
Jim Goldberg's practice has always explored the cutting edge of documentary and his landmark use of image and text have ensured that he is one of the most original and innovative photographers working today. He has transformed the way documentary work is presented in galleries by developing an installation-based approach combining very small and large prints, often producing free newspapers to give-away to audiences and introducing material elements (such as sand) into his displays.
Goldberg's long-term projects include Rich and Poor (1977-85), Raised by Wolves (1985-95), and Open See (2003-2011), for which he was awarded the Henri Cartier-Bresson Award and the Deutsche Börse Photography Prize in 2011. Goldberg's works are in numerous collections including the: Museum of Modern Art, Whitney Museum of American Art, J. Paul Getty Museum, LACMA, National Gallery of Art, Alinari National Museum of Photography in Florence, Le Musee de la Photographie, Belgium, and Museum für Kunst und Gewerbe, Hamburg, Germany. Goldberg is Professor Emeritus at California College of the Arts and a member of Magnum Photos. He is represented by Casemore Kirkeby Gallery in San Francisco.