Group Visits and Workshops at The Photographers' Gallery are suspended in the interests of public health and safety. Please see our FAQ page for up-to-date information. 
Group Visits
Groups of 10 or more will need to book self-led visits to our exhibitions in advance. For groups of 30 or more, we ask that you split your group and book multiple time slots to avoid overcrowding in the galleries.
Pre-booked educational group visits of 45 minutes are available for 10 – 33 students.
£1 per person including group leaders. Please pay on arrival.
Visits after 17.00 are free
Under 18s go free.
Some exhibitions may contain content that some individuals may find disturbing. A visit in advance by group leaders is advised. Please contact our Visitor Relations team if you have any concerns.
For general enquires, contact our Visitor Relations team on +44 (0)20 7807 9300 or email info@tpg.org.uk.
We regret we are unable to offer guided tours to groups. For information about exhibition tours in our public programme, please visit What's On.
Education Workshops
Our 90-minute workshops for schools, linked to either our exhibitions or Camera Obscura get pupils looking, thinking, talking and making. Suitable for KS2 and upwards.
£160 for a group of up to 33 pupils.
For general enquiries, contact our Education team at projects@tpg.org.uk.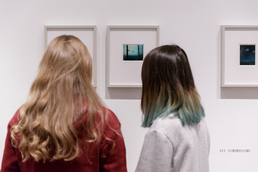 DEVELOP Workshops for Schools
We offer a limited number of photography careers-based sessions for pupils at Year 9 upward who are attending schools with 40% or more pupils eligible for Pupil Premium. Participants will delve into some of the many careers linked to preparing for, creating and working with photography. These fun and interactive sessions are led by experienced photography educators and are 90 minutes in length.
These workshops are linked to our Develop: Creative Careers Through Photography programme which offers an array of talks, discussions and workshops for young people aged 14-24 to inform themselves and prepare for, working with photography. The programme particularly aims to involve young people who might otherwise not have these opportunities due to social, educational or
The Develop Schools Workshop acts as a taster for the Develop programme, and is free on a first-come, first-served basis.
For more information or to book, contact our Education team at projects@tpg.org.uk.