Thursday Lates Special: Fiesta Latina
17.00 – 21.00
Fiesta Latina is a vibrant, unmissable evening of exhibitions, performance and refreshments inspired by our Latin American Season and part of our Thursday Lates programme.   
Featuring traditional and contemporary live music from La Cuenta Por Favor plus dance sets from the region, the evening also offers guided tours of Urban Impulses from our team of youth speakers and an opportunity to see all of our current exhibitions out of normal hours.   
Admission for this special event is £5/2.5 concessions and includes access to all activities, plus some complimentary drinks offering Argentinian wines and other refreshments.  
Tickets are limited, so book early to avoid disappointment.
Live Music From: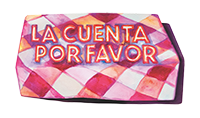 Drinks Sponsors: