This event is part of our Past Programme
In 2011, Alessandro Ludovico and Paolo Cirio stole one million Facebook profiles, filtered them with face recognition software and posted them on face-to-facebook.net a custom made dating website, sorted by the characteristics of their facial expressions.
Part social experiment, part media performance, the project generated significant worldwide media coverage, eleven lawsuit threats, five death threats and letters from Facebook lawyers.
As questions continue to be raised about the use and control of facial images online, we present the archive of the Face to Facebook project for the first time in a UK gallery.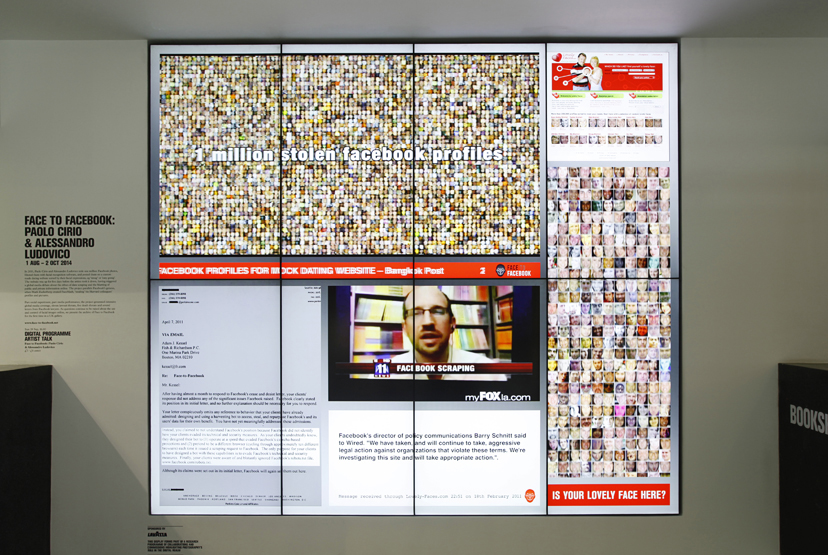 Biography
Alessandro Ludovico is an artist, media critic and chief editor of Neural magazine since 1993. He is one of the founders of Mag.Net (Electronic Cultural Publishers organisation) and also served as an advisor for Documenta 12's Magazine Project. He is one of the authors of the Hacking Monopolism trilogy of artworks (Google Will Eat Itself, Amazon Noir, Face to Facebook.
Paolo Cirio is a contemporary artist renowned for his controversial and innovative artworks. Cirio's artworks often engage power structures, global mass media and the general public in art performances that enact contemporary social, economic and political conflicts. He has won a number of awards, including the Golden Nica at Ars Electronica and his projects have been exhibited internationally.
Related event
Sun 28 Sep, 16.00
Artist Talk: Paolo Cirio & Alessandro Ludovico
The artists speak about their project Face to Facebook and discuss facial recognition, data scraping and privacy on social media platforms.